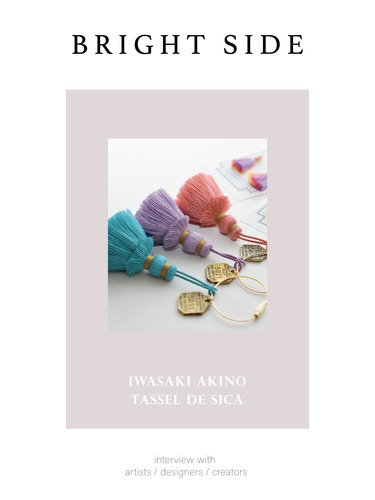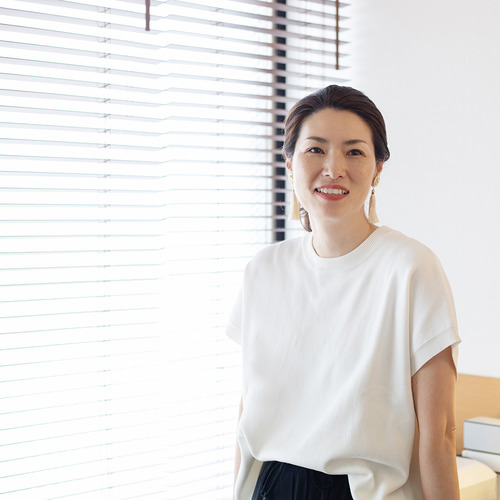 IWASAKI AKINO
Architect / Lives in Tokyo, Japan / Creator of tassel
Graduated from architecture department,
and she worked as an architect for years.
After leaving the architectural company,
she started her own brand named "tassel de sica."
The unnecessary ornaments are some kind of offense to architect, she said.
All must be simple and uncomplicated design.
Perhaps because of as an architect, it might somehow influence her design.
All the tassels are elegant and noble.
She likes to use different colours to create tassel with sense of season.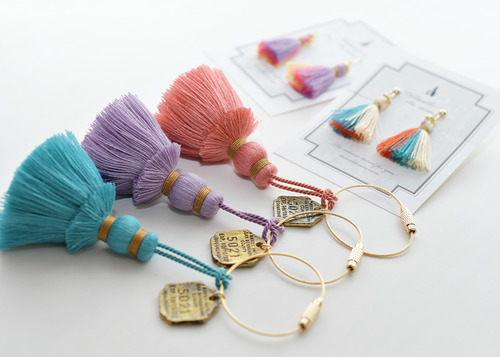 Please simply talk about your educational background.
What's the driven force behind the birth of tassel de sica?
After graduating from department of architecture at graduate School,
I joined the design office as an architect. After leaving the company,
I established ''tassel de sica'' after getting tassel's teacher qualification.
After that, I got haute couture bead embroidery certification to
expand the design range of tassel. I felt strongly that I wanted to make things
because I hadn't made anything for several years after leaving the design office.
That is the driving force.

Tell us about "tassel de sica",
the meaning and the concept of the brand.
"de sica" means "only" in Japanese.
This Japanese is written like French.
"tassel de sica" means "to express only with tassel".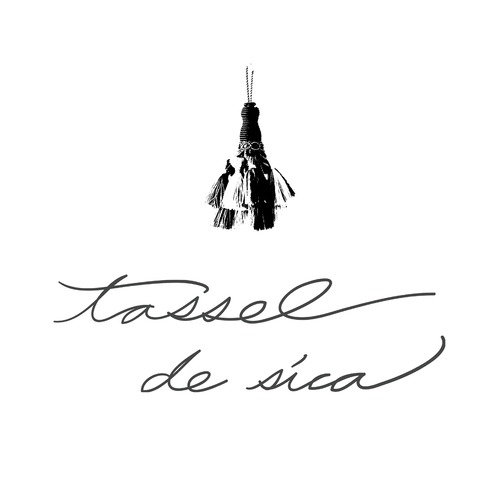 How would you describe your design style?
Simple, elegant and pop color.
The objective of my design is elegant.

What is the main message you are expressing through your works?
I hope the tassels can bring some joy to daily life.

What's your typical working day like?
Responding to customers who order online, production,
shipping, inventory management, and create new designs.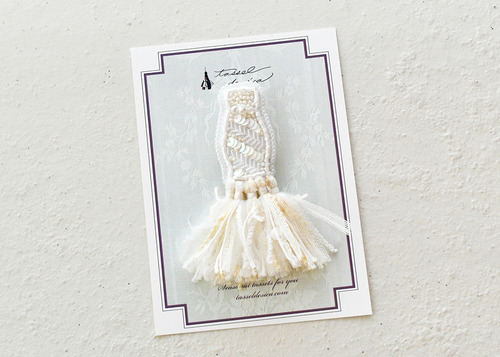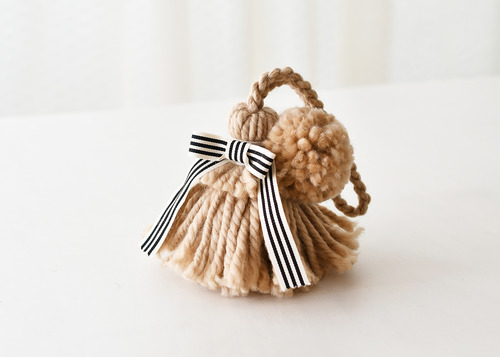 What does tassel make you feel?
And what type of materials do you like most?
Tassel has soothing effect on me.
I won't be tired to create various kinds of tassel designs for years,
because the tassel bunch can relieve the stress.
I like soft materials that can be touched and feel comfortably.

How do you get inspiration for your work?
I often get inspiration from nature such as flowers and plants.
Sometimes I will get some ideas from the materials.

What is the most important part of your working process?
The combination part. When combining all materials,
the final finish will affect the completed look.

Do you follow your instinct to design?
Finally I follow my instinct.
Somehow it doesn't work with thinking it is good or not,
it's the sense to feel good or not.
And that is often the correct answer.
What kind of books/magazines do you normally read?
I like traveling, so I read domestic or overseas landscapes magazines.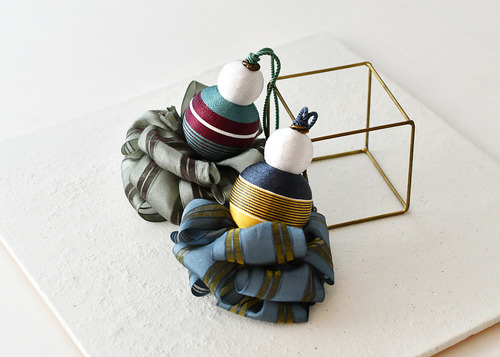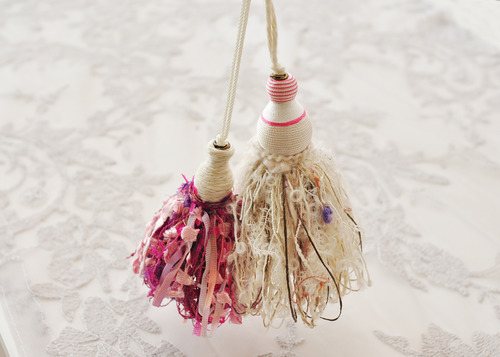 Other artists or designers do you admire?
I admire my husband who is the architect.
He creates beautiful architecture.

Have you ever been to Taiwan?
What is your impression of Taiwan?
I have never been to Taiwan, but my sister-in-law is Taiwanese.
She gives me a good image, she is smart and calm.

What keeps you going and staying in tune?
I think this is the only way, there is no escape.
So I have to go forward even when I'm not motivated.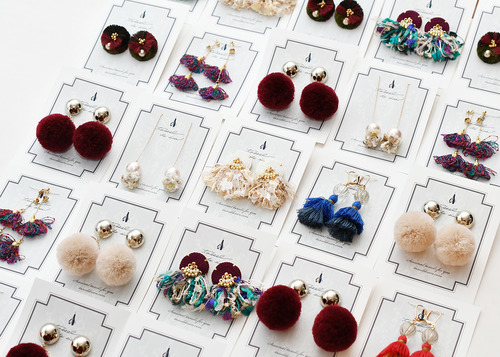 What has been the most joyful thing/experience so far
since you started tassel de sica?
I'm happy to meet people who couldn't meet without doing this job.
When I made a collaboration with a musician,
I was impressed to be invited me to a concert.
And I was happy to sell a collaborative work with "Naito Rune",
which I thought it was cute when I was a kid.

And the most difficult part has been…?
The time when I think new design.
There are many works that couldn't be sold
because they were not good design.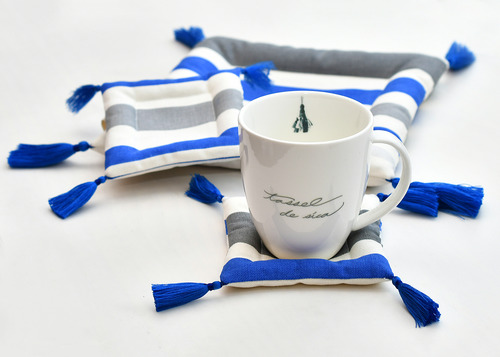 What have you not tried to do,
but would definitely want to try one day?
I would like to participate in a big hall sales event.
I want to make a booth perfectly and make many products and challenge.

What activites will you do in your leisure time?
Shopping and traveling.
It is important to know what is prevalent at that time and to reset my thoughts by feeling nature.

What's your next step of tassel de sica?
I think that the emphasis is to continue with the current stance rather than the next step.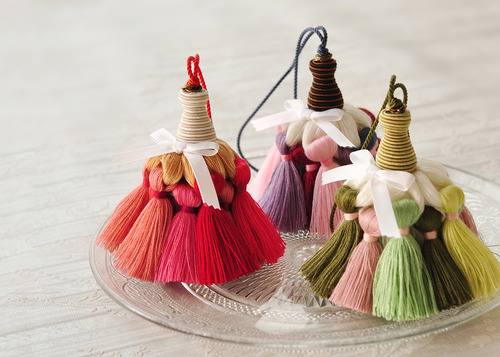 What is the most important thing in life from your point of view.
You should listen to your internal voice,
figure out what you really want to do, do not just drift along.
Share 3 instagram accounts that you recommend.
@tokyoartsandculture
@somewheremagazine
@wonderful_places

Last question. From 0 to 100, how much do you enjoy what you do?
I'd like to say 100, but it's 90 because sometime I have difficult job.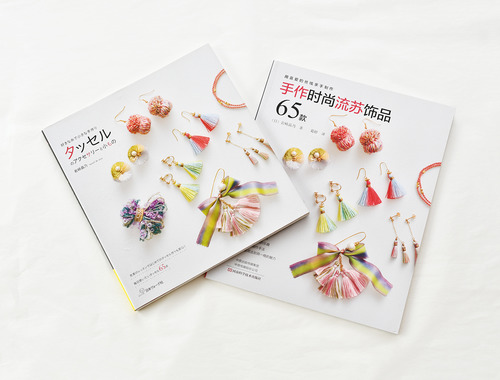 Iwasaki has a book about modern tassel design, to teach how to make tassels step by step.